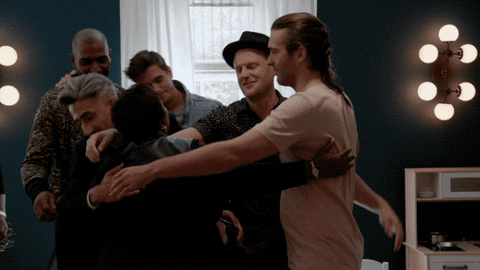 It'd be hard not to notice that things are kind of distressing in the world lately. And divisive. And hateful. And...well, not great. If you haven't noticed that, you might need to get out more. Or read more. Or y'know...be more active in the human race.
Anyway...I've been feeling it hard core lately. There was the suicide of Anthony Bourdain, someone I greatly respected and looked up to as a writer and humanitarian, and then the Hardwick thing, and of course the myriad things that make me feel ambivalent about the upcoming holiday. I don't know if I was looking for something to uplift, but I definitely found it. I watched the original Queer Eye when I was younger even though at the time, I couldn't fully appreciate everything about it (something I'm sad to admit.)
So it was obvious to me to watch the revival, though I wasn't sure if I'd like it. Turns out, I think it might be the good news antidote I've been looking for, even if I didn't know it.
Here's the thing. This is something I believe. It's something I believe strongly, and I choose to believe even when it's hard. I believe love wins every.single.time, if you can only find it. That's true in my own relationships and everywhere else. If you can find it, if you can do it, love will win. The problem is finding it and putting it out there even when you're not sure you're going to get it back.
That...at least to me, is what I've been seeing when I've been watching Queer Eye. People who are different from each other trying to understand each other, and help each other be the best version of themselves they can be. And yeah, it's not a groundbreaking television concept, but it does seem different and more genuine somehow. I feel like they're pretty real about who they are and the hurts and hangups they have.
Just started Season 2, going in thought it'd be good, but not much else. If you haven't seen Season 2 episode 1, I implore you to go seek it out. It's on Netflix and it's the antidote to lots of things, and for me, kinda tapped into the anger I have inside me about certain things.
It's all about a church lady the boys are helping out. She's love. She's everything southern hospitality and all sorts of sweetness and light. She's not sitting there sending thoughts and prayers, she's literally being the hands and feet and hugs and feeding and providing for people. And her son is gay. And she, being raised in the church, was not okay with that, at least not at first. And then, her son left. And she prayed. And she thought, and she realized that she was wrong, because love always does win.
Interestingly enough, one of the guys (Eyes?), Bobby, wasn't really having the whole situation. What you come to find out is that he was raised in the church (Like she was, like I was, like lots of people were...) and that when he realized he was gay, he used to agonize and pray at the altars for God to take it away. And then he got outed, and then he lost every last person who cared about him. Because love? Because God is Love? Because ...because why?
And the anger in his eyes was palpable when he told the story, and the pain. He wouldn't step foot in another church because his world was taken away from him based on people believing who he was was a sin.
And you could pooh-pooh that away, maybe, and I could, except that that's just how it is so often. The more I look back at the way things were in that environment, the more I see just how much it was like that. And to be honest, I still have that fear. There are people I love and respect that I went to church with growing up. They were influential to me, and loving. And yet...And yet I hesitated to post in disagreement. And yet I hesitated to come out strongly for what I believe in.
I've seen people lose their "status" and the love and attention of their friends and fellow church members because someone in their family committed a crime. Because someone was an alcoholic, or had bulimia/anorexia. Or lose their leadership position because their son got an earring. I've gotten gossiped about both behind and in front of my back (yeah I know, but bear with me) because I ran into someone I knew from church (in the past, no less) and I had a bottle of wine in my cart, or was having a drink at TGI Friday's. I've been told to stay out of the church because I was wearing a tie-dye shirt with a peace sign on it (broken upside down cross don'tcha know.) Some of the most prominent members of churches I used to be a part of can only think to ask about the juicy bits of gossip about the families I know who have problems instead of even pretending to feign interest in their actual lives. There are pastors out there who smile and hug and say How's your day and before you answer say good, even if you're standing there with tears streaming down your face.
That's where the root of my anger at the church comes from. That and the complete lack of even a basic bit of concern for what's happening politically beyond hearing the words cross his lips that he's in support of the Christian right. Pussy grabbing, moved on her like a bitch. Russia. Immigrants and asylum seekers and their children. Suffer the children unto me. God is Love. Love Wins. Where is the love? How are you in support of a regime like this, and that's exactly what it is?
How are you laughing heartily along with the rhetoric out there? How do you care about children in the womb but not a mite outside of it. How do you so ignorantly assume that everyone who's not the same color as you is criminal or illegal or nefarious or ..an infestation. How do you want it both ways, where your sins are just fine and forgiveness is available but you won't even let someone who you believe is sinning into your house or your church. How can you not reach out to those who are hurting or scared, and just talk about them behind their backs?
Is "telling it like it is" all you can muster?
I don't have a problem with God. I do have a problem with the church. And I'm angry. And I too, feel left behind and betrayed by them, and I too am wondering where the love is, and how it got this far...
But at least, when I'm watching shows like Queer Eye and I see someone like that woman, who DOES things and cares about people regardless of if they're purple, black or white or gay or straight or immigrants or....then I know that it's still there. Somewhere. It gives me hope that love wins anyway, regardless of if it's left the places you'd expect it should be most. Love wins if you find it and if you share it, and so that's what I'm going to do.
I'm angry, but I feel like it's time to be angry. And, believe it or not, because of a little tv show, I'm hopeful...that we ALL, regardless of race, sex, creed, orientation...can find the love again and let it win.